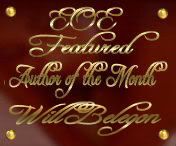 Will Belegon is an author of erotic romance from a man's prospective. It is his lush and hedonistic imagination that makes him a much sought after author in the field of erotica.
Thank you, Essence of Erotica, for featuring me as your Author of the Month. I am very flattered.
If anyone would like a copy of the Essence of Erotica Newsletter, the simplest way is to join the group by visiting their Yahoo group
homepage here
or even just subscribing right away
here
. Of course, if you have zero desire to join a Yahoo group and you email me privately at willbelegon@yahoo.com, I can send it your way. Please note that this is an adult group and the fiction excerpts contains strong language and adult situations, so I can't share unless I know you are over eighteen. I mean, it is still a Bush White House, and it's gonna be his Supreme Court for a while yet...